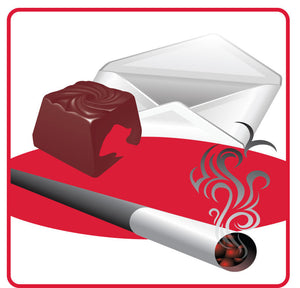 It's an upper class gathering written about in The Times and Tatler - celebrity caterer Prudence Golightly has invited her nearest and dearest to celebrate the engagement of two esteemed members of New York and London society, her best friend, Chastity Purewater, and American banker, Blake Manly. The Roaring 20s are in full flow, and although prohibition reigns in Manhattan, the rich and famous continue to wine and dine in Blighty against a backdrop of jazz, flappers and champagne, with the Great War all but a distant memory. However, beneath the veneer of wealth and glamour lie salacious secrets and dastardly dark intentions. The question is: Will you survive My Deadly Valentine?
Characters
Dickie Golightly
Dick is the dull but rich father of Roger and Prudence. He was the business partner of Chastity's Daddy and has been like a father to her since his death.
Prudence Golightly
The hostess of the engagement party, she is an excellent cook and oldest friend of Chastity. A bit of a bore but she makes exquisite desserts.
Roger Golightly
Prudence's brother, Roger is a sportsman and a rather proud Englishman. Like his sister, he is very earnest, and loves discussing his army days.
Meredith (Merry) Partiard
Chastity's half-sister, an American debutante with a razor-sharp tongue. The original good time girl, but you wouldn't want to find yourself on the wrong side of her.