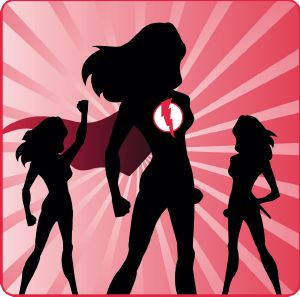 Wanda Woman has summoned the members of the League of Supergirls to her secret hideout to discuss a hideous crime – the destruction of their companion Fantastica's powers. Who has the knowledge to strip a supergirl of her powers? Why would they commit such a heinous deed? What on earth can a Supergirl do? And more importantly who is next? Will you survive Murder in the League of Supergirls?
Characters
Wanda Woman
The hostess for the evening Wanda Woman is the leader of the League of Supergirls. She has been in the game a while and become a bit mumsy.
She-Woman
The Supergirl who has it all, the status, the car, the adoring husband, the children, the PA and still looks the part every day. She can kill at 20 paces with a flick of her smartphone.
Lady Legal
Lady Legal is the clever one. She is the one that reads the small print and deals with the admin. Likes to think of herself as the power behind the throne.
Madame de Beaujolais
This is a Supergirl who knows her wine, and is not afraid to show it. She has an outrageous French accent. Her Superpower is super ability to smell and taste things other can't – oh, and to remain sober when everyone is drunk.
Mrs Fabulous
A Marilyn Monroe for the 21st century, Mrs Fabulous brings glamour to fighting crime. Her superpower is her dazzling beauty that she uses to bewitch and hypnotise her enemies.
Poison Ivy
She is fiercely loyal to the League and much admired because she is a fearsome opponent and the most impressive of the Supergirls in combat.
The Black Kitten
A cat burglar with superhuman skills of stealth and ingenuity, The Black Kitten has often been a key member of the League of Supergirls. Supremely stealthy, sneaky and with far more than nine lives!