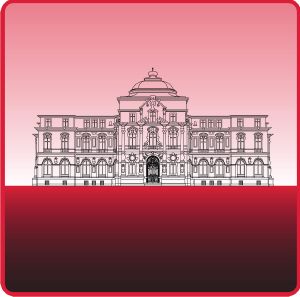 It is 1926 and Marchioness Emilia Malade is hosting a weekend house party at Down-at-Heel Abbey. She has invited various improving speakers and guests with the hope of establishing a reputation for interesting house-parties. Her idea is that this will attract rich young men to visit and meet her daughters, fall in love and restore the fortunes of the Abbey. But now all her plans are up in smoke for the new estate manager, Mr Aix, has been murdered by the Temple of Venus in the grounds, which will create quite a different attraction. As the party wait for the police they wonder, who committed Murder at Down-at-Heel Abbey?
Characters
Lady 'Ma' Malade
Old dowager marchioness of Down-at-Heel Abbey. Everyone calls her 'Ma' but she's far from the cuddly mother of storybooks. She bosses everyone around and certainly rules the roost. Is she strong enough for murder?


Marchioness Emilia Malade
Emilia Malade is the daughter of an American oil tycoon who thought she would find a better class of husband amongst the English country manor set. She has invited various guests to the house this weekend in hopes of "improving" her daughters. But would she kill to protect the Abbey?
Lady Flora
Daughter of Marchioness Emilia Lady Flora is the oldest of the Malade girls. She is pretty but lazy and would rather spend her time shopping in town than learning her lessons, or flirting with boys. Is she passionate enough for murder?
Lady Dora
The second daughter of Marchioness Emilia Flora, is flippant but switched on. However, unlike her sister, she is determined not to throw herself away on any old boy. She wants a real man with a title and a wealthy man at that. Would she kill to get what she wants?
Lady Nora
The youngest daughter of Marchioness Emilia is a chip off the old block. She is very serious and actually is clever. She
applies herself to her lessons at Mrs. Bourneville's but she has really got her eyes on a bigger prize. She wants to go to Cambridge - enough to kill for it?


Maud Brownose
Maud Brownose is the housekeeper. Everything runs like clockwork because she makes sure it does. She is prepared to flatter, obey and agree with whoever is acting in the best interests of the house but that doesn't mean she is loyal to them. She is truly loyal to the house and only the house. Would she kill to protect it?
Hortense Butler
Hortense is a world-renowned lady explorer. She has been up the Amazon, down the Nile and in and out of everywhere else in between. She has come to give some improving talks on her fantastic adventures with her assistant Dorothy Eager.
Dr Nancy Record
Famous intellectual Dr Nancy Record is a feminist through and through and a close personal friend of Emmeline Pankhurst. She lectures at London University on Antiquities and believesit is women who run the world. Would she kill to prove a point?