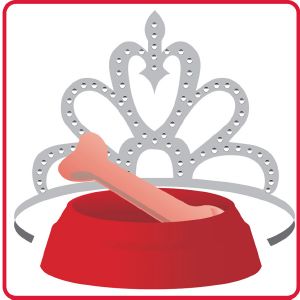 Some of the most beautiful women in the country are gathered in the small seaside town of Shaven Haven for the most hotly contested beauty competition in all of Sussex – Miss Chow Down 2009. The international dog food company, owned by Mr Simon Fowl, who is also chief judge of the competition, is a big employer in the area and supporter of local talent. Popular beauty queen from the neighbouring town of Spent, Miss Spent 2008, is hosting a sophisticated gathering for all the finalists, the evening before the final round of the competition. However, their glamorous soiree is due for a hideous interruption. How will the beauties cope with the ugly face of murder, and will you survive the evening that lies ahead?
Characters
Miss Spent
The hostess for the evening is charming but over-excitable and reckless. She is maniacally charming and now that she seems to have put her gambling past behind her, the whole town of Spent is proud of their most famous daughter.
Miss Take
Miss Take is not what you would call a beauty; the hamlet of Little Take has a total population of seven, including Beaver the Dog, Miss Take's best friend. She is very awkward and keeps making inappropriate comments.
Miss Aisle
Odds on favourite to win the competition, stunning and confident sex therapist Miss Aisle has revolutionised the lives of the women of Aisle with her unique line in sex toy parties. She often carries her merchandise on her person as she would never want to miss an opportunity to liberate womankind.
Miss Adventure
Miss Adventure, from the upper-class seaside resort of Adventure is a world-renowned archer and all-round good egg. Head girl at the local school, Olympic team member, rich and popular her life belies her humble roots and the dark secrets of her past.
Miss Fit
Currently training for the Five Peaks Octathlon, Miss Fit, is the aptly chosen candidate for the village of Fit End. She is fiercely competitive and determined to win everything she puts her mind to.
Miss Behaven
The chosen entrant from the town of Not Much Behaven sees herself as a bit of a comic, and spends her time trying to think of ways to get one over on others. Though she is young, she is a veteran of the beauty pageant world, having been winner of Miss Junior Chow Down ten years ago.
Miss Tress
A very secretive and classy entrant, she plays her cards close to her DD chest, but is an open secret that she is a professional mistress with a contract to publish her diaries.
Miss Tique
Little Tique is the spiritual home of this child of nature. She loves to be close to the stone circle there, and naked moonlight dancing is her version of clubbing on a Saturday night. Her natural outfits have caused a stir.
Miss Treat
Miss Treat, from the beautiful village of Lower Treat, made her name for being more beautiful outside than in. She has a habit of stealing other people's boyfriends and thinks the beauty world is beneath her.
Miss Fire
She has entered every beauty competition from Spent to Much Leading but her success rate is precisely zero. As result she has become bitter and cynical about the beauty pageant world, and delights in the misery of others.
Miss Chief
Very young and excitable, she loves playing jokes and believes she is popular. Actually, her only real friend is Miss Behaven.
Miss Leading
Surprise entrant who people suspect may be here by underhand means! She's a bit of a tale-teller, largely about her "natural" beauty.
Miss Conduct
Miss Conduct has a chequered past. She was expelled from both secondary schools in High Conduct and ended up being home educated by a tutor whom she subsequently seduced. She holds the Spent record for drinking a yard of ale in the shortest time – which she won on her 13thbirthday.