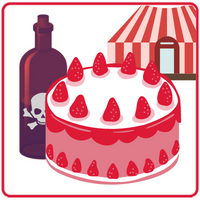 In the village of Soggy Bottom, the best bakers in the country are gathering to film the new series of the UK's favourite cooking programme, 'Great Britons Bake Stuff'. However, a dark shadow hangs over proceedings. Much loved judge Paul Helliwould was recently killed in a burglary at his house; presenter and comedian Noel Filledin also passed away suddenly after an unexplained gastric illness. Nevertheless, the show must go on. 
Knives, forks and wooden spoons are out. It may be a fight to the death for the Bake Stuff crown…
Characters
Wayne Scales
Wayne Scales is young, intelligent, focused and political. He is a man on a mission. As a militant vegan he has not only entered the Bake Stuff show to prove that vegan baking is superior to normal baking but has plans to bring down the dairy-loving show completely. As a result he doesn't make many friends and finds himself isolated but he doesn't mind at all.
Angel Delight
Angel Delight is a lovely, bubbly character who appears to be on the Bake Stuff show for a bit of fun. Her personality is homely and wholesome. As a mother of nine children, you would think she knows her way around the kitchen. However, in her home there is no time for finesse and she is absolutely clueless about baking. She has her phone on her at all times and will readily get videos up on Youtube to work out how to cook. In fact, it's a bit of a mystery to everyone how she got a place on the show at all.
Phil O'Pastry
Phil O'Pastry, is as the name suggests a pastry expert. He's already made a name for himself on the Irish baking scene and is now ready to have a crack at the big time. He comes across as humble but it's just a front for an ambitious man who wants the baking crown.In fact, he's hoping that the Bake Stuff audience will be won over by his cheeky charm and then he can go back to his real love: gambling. He likes to throw in gambling and betting knowledge during conversation. Phil has a few dark secrets up his sleeve.ve.
Keith Limepie
Keith Limepie is an outrageous character who loves to shake things up. He experiments with flavours and pushes boundaries. He lives with his husband in Brighton and knows many minor celebrities personally. Keith is popular, fun-loving and gregarious; it might help your characterisation to channel English TV and radio presenter Rylan Clark-Neal.
Merry Beret
Merry Beret is a retired baker and cookery show judge, recruited back to the Bake Stuff tent following the sudden passing of Head Judge Paul Helliwould. In her prime, she was a darling of the TV shows and a national treasure but those days are long gone. Following her sacking over a decade ago for what is suspected to have been drinking related misdemeanours, Merry has really let herself go. She has been known to drink a bottle of wine before dinner begins and gradually become more and more bitter and jaded.
Prune Loaf
Prune Loaf is the larger than life Head Judge of Great Britons Bake Stuff, the award winning TV baking show. Her first husband was extremely wealthy and so she doesn't need the television work but loves the spotlight, is very confident and a bit of a flirt, particularly with men half her age. The recent promotion to Head Judge happened on the sudden death of Paul Helliwould, in a knife attack during a burglary at his home.